www.hotpos.com.au Explains Barcode/Label Printers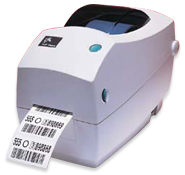 Barcode/Label printers use two different thermal printing methods: Direct Thermal & Thermal Transfer. When choosing the correct type of printer, it is important to first look at the differences between the two types.
In thermal transfer printing, a thermal print head applies heat to a ribbon, which melts ink onto the paper or labels to form an image. The ink is absorbed so that the image becomes part of the paper. This makes the labels or barcodes more durable than ones printed with a direct thermal printer. The downside of these types of printers, are that they are generally more expensive to purchase initally and consumables can be more costly due the fact that they require the use of a ribbon.
Direct thermal on the other hand requires no ribbon. It works by creating an image directly on the label. Direct thermal printing requires the use of special heat sensitive paper or labels. The printer's simple design, make them easy to use and durable. Because they require no ink, toner or ribbon, direct thermal printing is is sometimes more cost effective than printing with an inkjet, laser or thermal transfer printer. The only downside is that labels and barcodes printed with a direct thermal printer fade over time or when they are exposed to heat (such as direct sunlight). This means that the labels or barcodes can be used only in the short term.
Accessories
When purchasing a new printer you will most likely need to purchase accessories to go with the printer. Things such labels, ribbons (if not using direct thermal labels), etc.

How do you know which accessories to choose? As a general guide the following items need to be purchased when buying a new printer:


Printer Type
Print Ribbon
Paper Type
Durability
Direct Thermal
Not Required
Requires special heat sensitive paper
Sensitive to Light and Heat
Thermal Transfer
Ribbon Choices:
Resin
Wax/Resin
Wax
Near Edge
Accepts a wide variety of media types
Not Sensitive to Light and Heat
Paper Types
Goto Hotpos' Direct Thermal Labels
Goto HotPos' Thermal Transfer Labels
When selecting your paper/label size you need to ensure that it will fit your chosen printer. Both Direct Thermal and Thermal Transfer printers usually require paper with a core size of 38mm. However if you purchase an industrial printer you would most likely need a paper core size of 76mm.

You will also need to consider the label width that your printer can handle. As a rough guide lower models may have a maximum width of 2" (50mm), mid range printers may be able to handle 4" (100mm) and industrial printers will handle larger sizes
There are four different types of Thermal transfer ribbons and they are almost always black:
Wax
Wax/Resin
Pure Resin
Near Edge


Wax
This is the most common choice of ribbons. Usually, wax ribbons are for printing onto paper labels. Because wax is used, the labels must be kept dry and must not be subjected to certain chemicals or oil, which would melt the wax image.Wax printed labels can potentially keep for a number of years. This type of ribbon is a good choice for most general label printing.


Wax/Resin
Wax-resin ribbons produce a finer image on very smooth paper or coated paper labels. Wax/resin printed images are much more durable than wax, but they can still only stand a small amount of contact with water. They also have a slightly higher life-span than wax labels.


Pure Resin
Pure resin ribbons are designed to print onto plastic labels such as polyester, polypropylene and vinyl. The ink is designed to adhere to the plastic surface of the label . Depending on the plastic material and ribbon brand used, resin printed labels can be extremely durable.


Near Edge
Near Edge ribbons provide a high quality print on various media; They have high resistance to sunlight and are best used when printing barcode tags and labels, shipping labels, shelf labels and general ticketing.